From
69
No hidden fees or surcharges
Tour to Timanfaya, Mirador del Río, Jameos del Agua, Cueva de los Verdes - Lanzarote Highlights
698 Reviews
Visit the 4 most important places in Lanzarote: the Timanfaya National Park with the volcanoes route, Mirador del Río, the Jameos del Agua and the Cueva de los Verdes on our tour.
A day trip around Lanzarote to see the 4 must-see places on Lanzarote now it is possible!
A tour through Lanzarote to discover the National Park of Timanfaya, Mirador del Río, Jameos del Agua and Cueva de los Verdes in one single day ''Lanzarote Highlights".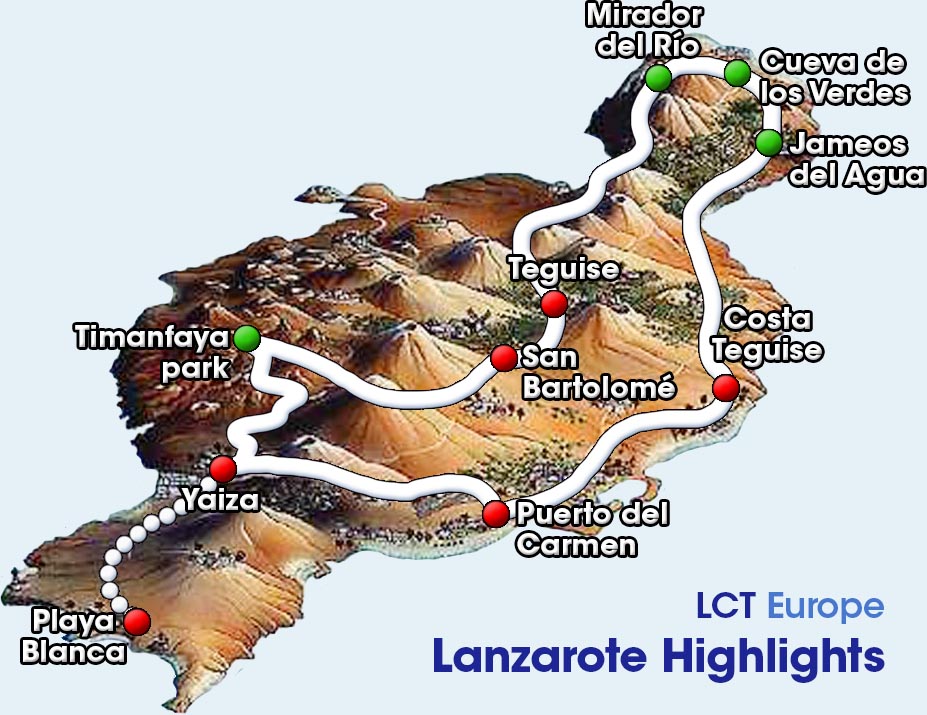 Timanfaya National Park, the first of the essential visits of our excursion on Lanzarote will be our first stop on this tour around Lanzarote. Timanfaya National Park and its Volcanoes Route is one of the top activities in your vacation on Lanzarote. Fire Mountains, also known as National Park of Timanfaya, are the consequence of the passage of lava and the continuous eruptions between 1730 and 1736 of the volcanoes in the south of Lanzarote in those years. Also, on the Islet of Hilario, inside Timanfaya National Park, you can see the unique geothermal demonstrations on the island, pouring water in the interior of the earth that in a few seconds is violently expelled as steam from water to infinity. Pure spectacle!
Our tour of Lanzarote continues to the north of the island in search of the other 3 treasures you cannot miss in the north of Lanzarote: Mirador del Rio, Cueva de los Verdes and Jameos del Agua. All this after recovering energies in one of the restaurants of the area.
Mirador del Rio is our next visit in the north of Lanzarote, which, like a watchtower offers you impressive views over Chinijo Archipelago and La Graciosa, recently considered as an island, as well as beautiful views over the Famara Cliff and Salinas del Río.
Cueva de los Verdes is in all the tourist guides of Lanzarote as one of the visits that you can't miss during your vacation on Lanzarote. A pleasant experience in one of the world's largest volcanic tubes, on a 45-minute guided tour. Cueva de los Verdes is located in Haría, in northern Lanzarote and on our excursion is our next stop after visiting Timanfaya and Mirador del Rio. Do you know the secret that is kept inside Cueva de los Verdes in Lanzarote? Find out, but don't tell anyone!
Jameos del Agua is only a few minutes away from Cueva de los Verdes and is another of the places that arouse more interest in Lanzarote, in our tour of Lanzarote, Jameos del Agua is the perfect ending to this discovery tour in Lanzarote. Why is Jameos del Agua one of the best places to visit in Lanzarote? The contrast of tunnels and caves sculpted by the action of nature and the good work of a genius like César Manrique, make this place a magical place you can't miss on your holidays on Lanzarote. The images of Jameos del Agua will make you speechless!
Do you want to discover and see the best places of Lanzarote in just one day?
The excursion "Lanzarote Highlights" is the best choice.
Don't think about it anymore and book with LCT Europe this excursion in which in one day you will see the Best attractions on Lanzarote: Timanfaya National Park, Mirador del Río, Jameos del Agua and Cueva de los Verdes.
Itinerary:
Timanfaya National Park - volcanoes route - (1h approx.)
Geothermal demonstrations on the Islet of Hilario (10 mins approx.)
Lunch stop (lunch not included in the price) - (1 hour approx)
Mirador del Río - (25 mins approx)
Cueva de los verdes - (55 mins approx)
Jameos del Agua* - (55 mins approx)
*Jameos del Agua is a natural environment where bathing is not allowed.
Adult (> 12 years)
69.00 €
Child (< 12 years)
36.00 €
Baby(< 2 years old)
0.00 €
Departure days:
ES - EN - Monday, Tuesday, Wednesday, Friday
DE - Monday, Wednesday, Friday
FR - Tuesday
Language of the visit:
English, Spanish German or French
It is possible that several languages are spoken on your tour (maximum 3).
Accesibility:
Cueva de los Verdes is not accessible for people with reduced mobility and is not recommended for people with claustrophobia.
Tickets:
Included in the price by express wish of the client:
Entrance to National Park of Timanfaya.
Entrance to Mirador del Río
Entrance to Jameos del Agua.
Entrance to Cueva de Los Verdes.
Minimun age:
Children must be accompanied during the entire visit by an adult responsible for them.
Clothing:
Suitable clothing and footwear according to season. In winter a sweater or light jacket is recommended.
Pickup point:
This tour includes pick-up points in the following tourist areas of Lanzarote:
08:20 - 08:45 hours: Costa Teguise // Approximate Arrival: 17:30h - 18:00h.
08:50 - 08:55 hours: Arrecife // Arrival Approximate arrival: 18:00 - 18:20h
08:50 - 08:55 hours: Playa Honda. // Arrival Approximate:18:00 - 18:20h
09:05 - 09:35 hours: Puerto del Carmen // Arrival Approximate: 18:30 - 19:00h
09:30 - 09:40 hours: Puerto Calero. // Approximate arrival: 19:00h - 19:30h
08:35 - 09:50 hours: Playa Blanca. // Approximate arrival: 18:30 - 19:00h
These times are approximate.
Important:
Please be punctual at the pick-up point assigned on your voucher: if you do not show up on time, no refund and/or modification of the booking will be offered.
Notice:
During pick-up and drop-off, in order to speed up times, there may be customer and bus exchanges.
Included
Official tourist guide
Tickets to the parks indicated on your voucher, avoiding unnecessary queues and waiting at the ticket office
Entrance ticket to Timanfaya National Park
Entrance ticket to Jameos del Agua
Entrance ticket to Cueva de los Verdes
Entrance ticket to Mirador del Rio
Modern and fully air conditioned bus.
Travel insurance
Pick up at hotel or nearest to the same point.
Not included (Optional)
Free! Cancel without charge up to 24 hours before the activity.
If your reservation is canceled within 24 hours prior to the service or you don't show up, there will be not refund.
The provider reserves the right to cancel the reservation at any time due to logistical problems or when it does not reach the minimum number of participants to carry out the excursion with guarantees.
Pablo From Spain
15-08-2021
Contenido muy interesante, buen conductor y Eric el guia lo hizo todo muy divertido y ameno
Mila From Spain
22-09-2021
Buen guía y buena ruta. Recomendable. Publicidad engañosa ya que dentro del apartado "included" se lee lunch y no está realmente incluido.
LCT Europe: En nuestra publicidad se especifica que la comida NO ESTA INCLUIDA, pero se hace una parada en ruta para aquellos que deseen almorzar, pero el almuerzo es opcional.
Jonathan From United Kingdom
28-10-2021
Really enjoyable and fascinating day out! Guide was very well informed and worked hard providing information in several languages. Driver was assured and confident, which was necessary on some of the roads with steep drops on both sides, while the sights themselves were just amazing. Timanfaya was like nothing I have seen before and we loved Jameos de Agua, which was stunning. A great day!
Thomas From Germany
06-11-2021
Alles Top! Von der Organisation, dem Zustieg bis zum Ausflug selbst. War ein sehr schöner Tag. Gerne wieder!
Orla Boylan From Ireland
26-11-2021
Excellent value tour. Guide very informative and great driving by the coach driver. Covered all the very interesting items on the island. It didn't feel at all like 9hours. Optional lunch very well organised and tasty. Highly recommend.
LCT Europe: We are delighted that everything went well, that is our goal and any feedback from a satisfied customer makes us feel very pleased.