From
55.00
No hidden fees or surcharges
Tour to Timanfaya National Park and Jameos del Agua - Grand Tour
302 Reviews
Get to know Lanzarote's 2 must-see places on this tour of Timanfaya National Park and Jameos del Agua; La Geria is also included.
Tour to visit Timanfaya National Park and Jameos del Agua in Lanzarote. An excursion full of contrasts, caves and volcanoes!
We offer you with this guided tour of Lanzarote a visit to Timanfaya National Park, a day tour around Lanzarote, including two of the most popular activities in Lanzarote: Timanfaya National Park and Jameos del Agua.
This tour of the island of Lanzarote not only gives you these two spectacular visits that are among the must-see places on your visit to Lanzarote. On the way to Fire Mountains (Montañas del Fuego) you will enjoy the beautiful views that the tour leaves us until we reach El Golfo (also known as Green Lake), going through the biggest saline of Canary Islands: Salinas de Janubio and the famous Green Lake, a unique place.
The visit to Timanfaya is our next stop on this tour which starts in the south of Lanzarote. Timanfaya National Park, also known as Fire Mountains is the most visited place on the island of Lanzarote, and the route of the volcanoes within Timanfaya National Park is one of the most outstanding activities to do on the island. In addition to volcanoes route inside Timanfaya, you can first watch the geothermal demonstrations on Hilario Island and you can also enjoy a camel ride in Timanfaya (optional).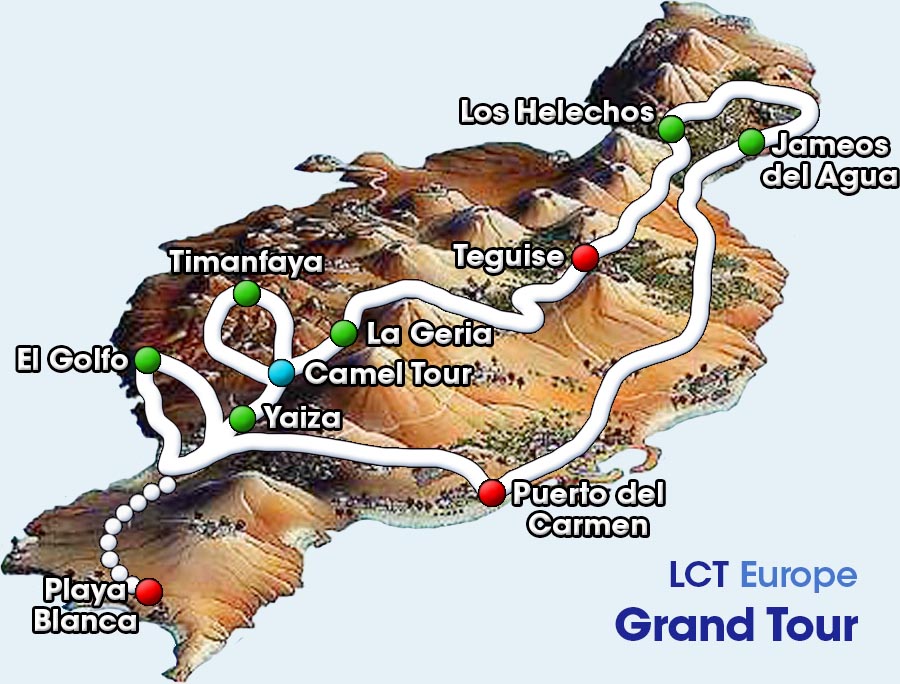 We make a stop for lunch* in Mancha Blanca next to Los Dolores church, the patron saint of Lanzarote, or in the village of Yaiza.
La Geria is one of the other attractions that you cannot miss on this excursion around Lanzarote, between Timanfaya National Park and before visiting Jameos del Agua we find this area covered with vineyards and semicircular lava walls around them unique in the world and a trademark of Lanzarote. It is in La Geria where most of the best known wine cellars of Lanzarote are located, some of these wines have been qualified as the best in the Canary Islands and even in Spain, highlighting the wines made from Malvasia and Muscat grapes. In La Geria we stop for a tasting of Lanzarote's wine.
In north of Lanzarote we stop to look at Corona Volcano.
Jameos del Agua is our next stop and the perfect end to our excursion. A must see during your holidays in Lanzarote. With this guided excursion we visit this natural cave which is located in the north of the island of Lanzarote. This enormous cave created from different geological transformations, and changed by the Lanzarote genius César Manrique, is the final part of this excursion around Lanzarote.
Itinerary:
Lago Verde - El Golfo (15 min. approx.)
Possibility of camel ride (optional not included in the price (11€ PAX/ 22€ Camel for 1 person).
Timanfaya National Park - Route of the volcanoes (1'20h approx.)
Geothermal demonstrations in Islote de Hilario (10 min. approx.)
Lunch stop (lunch not included in the price. 1 hour approx.).
La Geria (small wine tasting included) (20 min. approx.)
Mirador de Los Helechos (stop for photo)
Valley of the Thousand Palm Trees
Jameos del Agua (55 min. approx.)
*Lago Verde and Jameos del Agua are natural environments where bathing is not allowed.
Adult (> 12 years)
55.00 €
Child (< 12 years)
29.00 €
Baby(< 2 years old)
0.00 €
Departure days:
EN - ES - Monday to Saturday
DE - Tuesday, Thursday and Saturday
FR - Monday, Wednesday and Friday
Language of the visit:
English, spanish, german or french.
It is possible that several languages are spoken on your tour (maximum 3).
Accesibility:
Jameos del Agua is not adapted for people with reduced mobility.
Tickets:
Included in the price:
National Park of Timanfaya.
Jameos del Agua
Minimun age:
Children must be accompanied during the entire visit by an adult responsible for them.
Clothing:
Suitable clothing and footwear according to season. In winter a sweater or light jacket is recommended.
Pickup point:
This tour includes pick-up points in the following tourist areas of Lanzarote:
08:20 - 08:45 hours: Costa Teguise // Approximate Arrival: 17:30h - 18:00h.
08:50 - 08:55 hours: Arrecife // Arrival Approximate arrival: 18:00 - 18:20h
08:50 - 08:55 hours: Playa Honda. // Arrival Approximate:18:00 - 18:20h
09:05 - 09:35 hours: Puerto del Carmen // Arrival Approximate: 18:30 - 19:00h
09:30 - 09:40 hours: Puerto Calero. // Approximate arrival: 19:00h - 19:30h
08:35 - 09:50 hours: Playa Blanca. // Approximate arrival: 18:30 - 19:00h
These times are approximate.
Important:
Please be punctual at the pick-up point assigned on your voucher: if you do not show up on time, no refund and/or modification of the booking will be offered.
Notice:
During pick-up and on return, in order to speed up times, there may be exchanges of customers and buses.
Included
Official tourist guide
Tickets to the parks indicated on your voucher, avoiding unnecessary queues and waiting at the ticket office
Modern and fully air conditioned bus.
Travel insurance
Pick up at hotel or nearest to the same point.
Not included (Optional)
Food and drinks
Camel Ride (Optional on route - 11€ per person or 22€ per camel)
Free! Cancel without charge up to 24 hours before the activity.
If your reservation is canceled within 24 hours prior to the service or you don't show up, there will be not refund.
* Fees applied for payment gateways will not be refundable.
The provider reserves the right to cancel the reservation at any time due to logistical problems or when it does not reach the minimum number of participants to carry out the excursion with guarantees.