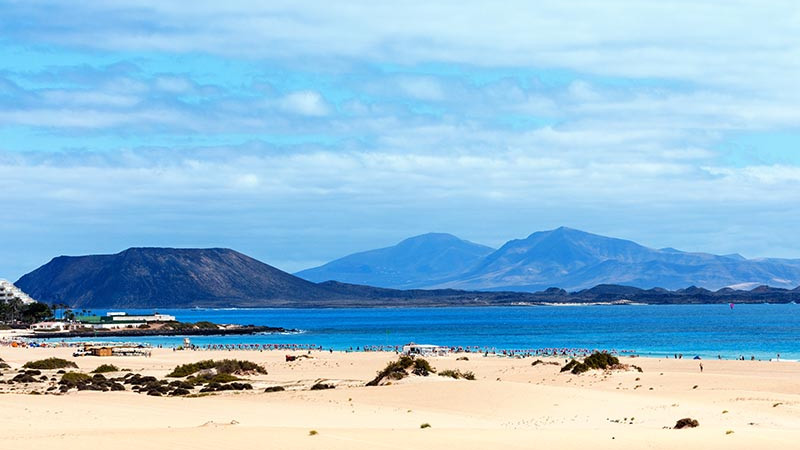 02-03-2020
Best tours from Lanzarote
If you are on holiday in Lanzarote and you have already discovered its main attractions such as Timanfaya National Park, Mirador del Rio, Jameos del Agua, Cueva de los Verdes, César Manrique Foundation, Peasant Monument or you have enjoyed the incredible Market in Playa Blanca or Teguise; and you want to take advantage of it to visit another island, this is a unique opportunity that you cannot miss:
Get to know the island of La Graciosa or the island of Fuerteventura on a day trip from Lanzarote!
La Graciosa, the eighth Canarian island, is a virgin paradise that you can enjoy with our Catamaran excursion from the north of Lanzarote. We depart from Órzola, a fishing village in the north of Lanzarote, where we will board this catamaran that will take us around the island of La Graciosa. We will disembark in Caleta de Sebo, a small village to the east of La Graciosa where you will have free time to take a walk through its streets or enjoy some of the beautiful coves of the island.
We continue our excursion along the north coast of La Graciosa on our catamaran where you can sunbathe and enjoy a refreshing drink while taking pictures of the spectacular views of La Graciosa Island.
We anchor at La Francesa beach, south of La Graciosa, for lunch (included in the price) and water activities such as snorkeling or kayaking. Without a doubt, the best way to enjoy this catamaran excursion on La Graciosa!
If, on the other side, you prefer to get lost in the Dunes of Corralejo or visit the most important villages of Fuerteventura, we propose a day trip to Majorera Island.
Whether you take the tour of Fuerteventura or prefer to enjoy some free time on the island on the Fuerteventura Express tour, you have the tickets for the ferry from Lanzarote included. Once the pick up is finished, we set sail for the port of Playa Blanca from where we leave for the port of Corralejo in a 25 minute crossing.
Once there, you'll enjoy several hours of free time in Corralejo, where you can enjoy Dunes of Corralejo. If you take the tour through Fuerteventura, we will tell you the itinerary.
We start our one-day tour of Fuerteventura towards an Aloe Vera Farm, a typical Canarian plant with multiple properties; and we continue towards the famous Sacred Mountain of Tindaya: one of the enclaves of Fuerteventura and which you cannot miss on this one-day tour of the island of Fuerteventura.
We continue the tour through a traditional farm where we taste the magnificent typical goat's cheese. From here, we head for Betancuria, and Betancuria Massif, which received the distinction of Most Beautiful Town in Spain at FITUR 2020. Do you need another reason to visit?
Finally, before returning to Lanzarote, we end our day trip to Fuerteventura by visiting Pájara and Antigua, Santa Inés Valley where we will stop for lunch. Take advantage of this opportunity to taste the typical products of Canary Island gastronomy!
One last stop that cannot be missed, Dunes of Corralejo: a unique landscape in Europe where you will enjoy a long golden sand beach that leaves a spectacular image.

Experience the wonders of Fuerteventura on this day trip from Lanzarote!
If you want to make the most of your holidays in Lanzarote, don't miss these excursions to visit La Graciosa and Fuerteventura in one day