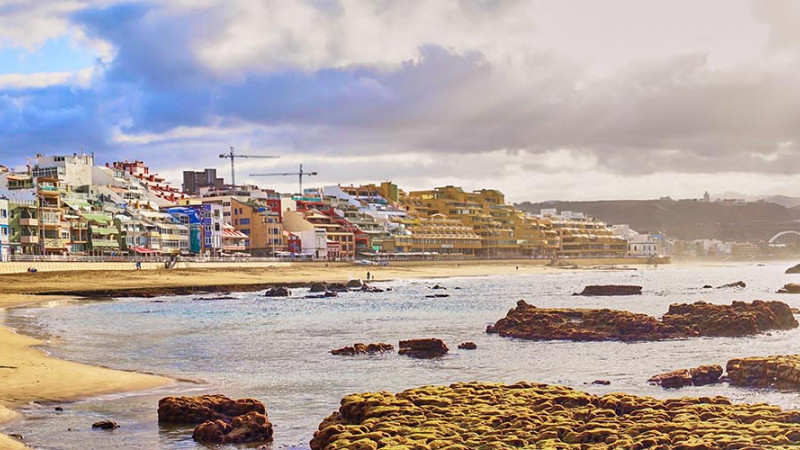 14-01-2020
Plans for couples in Gran Canaria
Gran Canaria is a destination to fall in love and what better way to share this love with a special person. All over the island there are a lot of perfect activities, which we recommend you don't miss out on:
You can't miss a romantic walk in one of the parks of the capital city such as Parque Doramas, Parque Juan Pablo II or Parque Santa Catalina, where you can have a drink and a snack in one of the many terraces in the area, with live music and a great atmosphere.
Having breakfast in Las Canteras beach avenue is one of the pleasures you cannot miss if you come to Gran Canaria with your couple. The spectacular climate of the Canary Islands, together with the views of one of the best urban beaches in Spain in Las Palmas de Gran Canaria, are more than enough reasons for you not to miss it.
Spend a day at Confital Beach. If you want to feel like a real local, you have to spend a day at El Confital beach, a beach with hardly any people, just a few minutes away from Las Canteras beach, which you can reach by walking along a paved but easily accessible path. The locals enjoy the weekends to make the famous "asaderos" (barbecues) with family and friends from the morning until sunset and see the magnificent sunset there.
Enjoying a sunset in Maspalomas Dunes is, without a doubt, one of the most romantic plans you can make on your visit to Gran Canaria. Walk through the mountains of sand that will give you the sensation of being in the desert. A great place to take a few pictures and have them as a souvenir. A few metres away, you will find the avenue and Meloneras lighthouse. You can have a drink there and end the day in a spectacular way.
Walking along the peaks of Gran Canaria and in Roque Nublo: Another of the most romantic plans to do in Gran Canaria is to see, from the highest point of the island, all the beauty that can be viewed from there. A spectacular and plentiful vegetation, which contrasts with beach landscape a few hours away, and which gives sense to the claim that Gran Canaria is a continent in miniature.