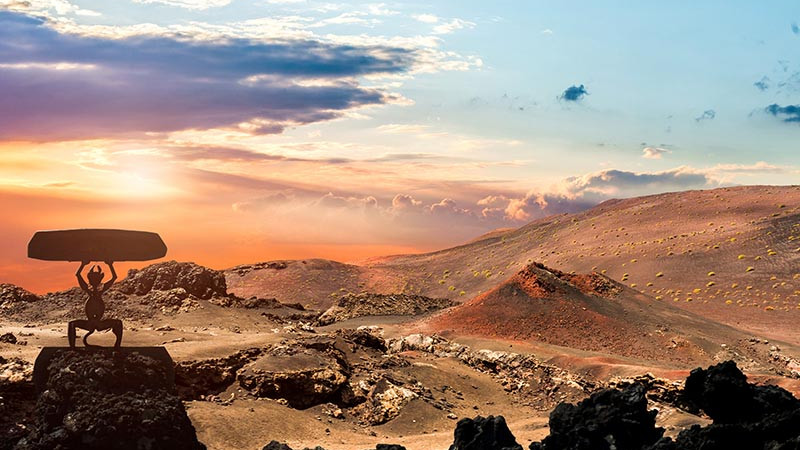 19-01-2020
Best tours to visit Timanfaya National Park
Lanzarote is a Biosphere Reserve and has many unique places in the world, which are obviously worth visiting during your holiday in Lanzarote.
Timanfaya National Park is a must-see on Lanzarote. In this post we give you some tips to take better advantage of your holiday time (how to avoid unnecessary queues, make the best itinerary ...), recommendations about Fire Mountains and all important information about this spectacular National Park of Timanfaya:
What are the advantages of booking an tour instead of visiting Timanfaya National Park on my own?
1. AVOID THE QUEUES AT TIMANFAYA! Depending on the season, you can spend several hours waiting in an endless queue of cars to get to the entrance of Timanfaya National Park. The buses that go on excursions (guided tours to Fire Mountains) have a priority lane free of traffic, which avoids waiting for the entrance to the park.
2. ENTRANCE TO THE PARK! When you go on your own, the next problem you face is that there are two types of queues:
2.1 One for private visitors
2.2 Other, for tour groups and guided visits to Timanfaya

This is another inconvenience that you must take into account so as not to lose your day before you start enjoying the visit to Fire Mountains.
LET US GUIDE YOU! As a consequence of the above, you will save time by visiting Timanfaya National Park on one of the guided tours of Lanzarote. You can take advantage of this to get to know other important attractions of the island of volcanoes, Lanzarote, on the same day, such as :
El Golfo (also known as Charco de los Clicos or Laguna Verde)
Los Hervideros
See Las Salinas de Janubio
Camel ride near Timanfaya
La Geria
And depending on the tour you have booked you can even visit attractions in northern Lanzarote like:
Los Jameos del agua
Cueva de los Verdes (Green Cave)
El Mirador del Rio
We hope that these recommendations will help you to make the best choice to maximize your time on your holidays in Lanzarote.
Having said that, what are the best excursions to make the most of your day in Lanzarote? Depending on the time you have and what you want to visit, these are our recommendations:
Do you want to be back in your hotel around lunchtime? Our recommendation is a half-day tour, in which you visit not only Timanfaya National Park but also La Geria with a Lanzarote wine tasting included and the possibility of a camel ride. Follow this link: Half day tour to Timanfaya to visit the Timanfaya

If you have a bit more time, we suggest a full day excursion in the south of Lanzarote where you can visit
Timanfaya National Park
Spectacular geothermal experiments on Hilario Island
Volcanoes Route
Camel Ride possibility
La Geria (with wine tasting included)
El Golfo
Los Hervideros
Seeing Janubio Salt Flats
Follow this link to book: Excursion to Timanfaya and the south of Lanzarote

Do you want to know the 4 main attractions of Lanzarote in a single day tour?
If you don't have many days or you don't feel like doing more than one excursion by bus visiting Lanzarote, then our suggestion is, without a doubt, the excursion Lanzarote Highlights. A tour in which you visit the four most important attractions of Lanzarote:
Timanfaya National Park
Spectacular geothermal experiments on Hilario Island
Volcanoes Route
Possibility of Camel Ride
El Mirador del Rio
Jameos del Agua
Cueva de los Verdes
To know more about each of these visits (attractions), click on each one of them: Excursion to see the 4 essential tourist attractions of Lanzarote

If you want to get to know the south of Lanzarote and one of the most visited attractions in the north in one day, Grand Tour is the best excursion for it.
Timanfaya National Park
Spectacular geothermal experiments on Hilario Island
Volcanoes route
Possibility of Camel Ride *
El Golfo (also known as Lago Verde or Charco de los Clicos)
Seeing the Janubio Salt Flats
Village of Yaiza
La Geria (with wine tasting included)
The town of Haría also called The Valley of a Thousand Palms
Jameos del Agua